Alliance Healthcare
Dakota helps achieve over 20% savings on annual consumables spend.

Alliance Healthcare wholesales, distributes, and retails pharmaceutical, surgical, medical, and healthcare products throughout Europe. The company supplies more than 110,000 pharmacies, doctors, health centres and hospitals from over 288 distribution centres in 11 countries
One of Dakota's recent success stories has been to create & develop a uniform, automated ordering system for Alliance Healthcare (Distribution) Ltd, part of the Alliance Boots group. Alliance Healthcare's pharmaceutical wholesale businesses, together with associates and joint ventures, supply medicines, other healthcare products and related services to more than 16,000 dispensing points through their network of 12 distribution centres in the UK.
Dakota visited 9 of Alliance Healthcare's 12 UK distribution centres & following an initial audit compiled a list of requisite stock products that we committed to store in our own warehouse facility in Carrington, Manchester to ensure a fast response with the ability to ship consumables on a "next day" basis to any of their UK distribution centres. The main approach centred around a uniform pricing structure from an internal catalogue with each site having the ability to place orders directly with Dakota against a fixed price, guaranteed for 12 months.
From Alliance's perspective this provided the stability required to budget each site's annual spend on thermal label & ribbon requirements without having to build in a percentage factor in case of price fluctuations. As a result of this approach the Facilities Manager at Alliance's HQ confirmed that the group will have saved in excess of 20% on their consumables spend in 2011 along with some "soft costs" associated with the reduced administration burden & cost of managing their stock of different label types.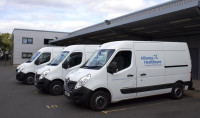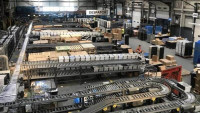 As Dakota currently enjoys Elite Partner status with Zebra Technologies for the provision of consumables this entitles us to the highest attainable discount in the market on Zebra products. Alliance Healthcare has placed an annual "call off" order for all of their sites with invoices raised once products had been shipped, an annual order that has been backed off to Zebra. This approach leverages greater discounts for the customer, thereby reducing Alliance's costs further.
"Ever since we first started engaging with Dakota they have impressed me with their 'can do' attitude and have worked very closely with us to identify and implement significant savings."
Facilities Manager
Alliance Healthcare