Liverpool Women's NHS Foundation Trust
Dakota overcomes poor quality print of medical record labels.

Liverpool Women's NHS Foundation Trust specialise in the health of women and their babies - both within the hospital and out in the community.
Background
Liverpool Women's Hospital was frustrated at the poor quality of labels produced by their existing Dot Matrix printers. The labels produced were of a very faint nature and poor in quality. The Trust engaged with Dakota to provide a credible working solution to overcome this poor quality print for an important area of the Trust that produced a high volume of medical record labels.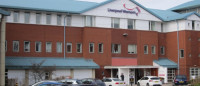 Project
Dakota met with Liverpool Women's Trust and proposed a solution based around the Zebra 170xiIIIPlus thermal transfer printer with requisite consumable items. The proposal also incorporated a fully integrated solution with the hospital's Meditech Patient Administration System (PAS) via Dakota's PASidMED product, which meant no costly, time consuming alterations to Meditech.
The labels were also designed by Dakota to incorporate a fully compliant 2D DataMatrix barcode solution.
The printers were deployed quickly and seamlessly in time for seasonal spikes in admissions, providing a reliable alternative to the Trust's previous medical records/case note label printing system.